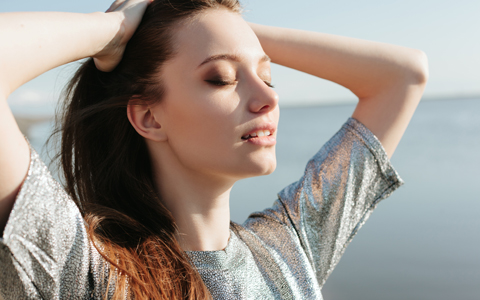 Are chips, cracks, or stains dulling your smile? If you have ever thought about changing the size, shape, or color of your teeth, porcelain veneers may be the right treatment for you.
Dental veneers can correct a wide variety of aesthetic imperfections to give you a flawless smile. To learn more about this impressive cosmetic treatment, contact Dental Designs today.
What Are Porcelain Veneers?
Porcelain veneers are thin, custom-made shells that are bonded to the front surfaces of your teeth. These ultra-thin shells correct aesthetic imperfections while providing strength and durability to your entire smile. We custom-make our beautiful veneers with premium porcelain that will blend right in with the surrounding natural teeth.
How Do Porcelain Veneers Work?
Your dental veneers procedure can be completed within two to three visits to Dental Designs. During your first visit, Dr. Brett Farnham, Dr. Kirby Fuerst, or Dr. Erin Fuerst will prepare your teeth for veneers by removing a small portion of enamel. They will take an impression of the teeth and send it to our dental lab.
We can provide you with temporary veneers so that you can have confidence in your smile while you wait for your next appointment. You will return to our office once your permanent veneers are complete and ready for placement.
We will check the color, shape, and size of your veneers, and give you an idea of how they will look on your smile. If you are pleased with the results, Dr. Brett Farnham, Dr. Kirby Fuerst, or Dr. Erin Fuerst will then affix them to your teeth with a bonding paste. You'll leave our office with stronger teeth and a more attractive smile!
Benefits of Dental Veneers
Customized for each individual.
Can provide a complete smile makeover in just a few appointments.
Veneers are resistant to staining and chipping.
They are translucent, allowing the natural tooth to show for a realistic appearance.
They require minimal tooth surface removal.
Can last at least 10–20 years with proper care.
Whether you carry years of damage and discoloration, or you have recently chipped or cracked a tooth, porcelain veneers are a viable solution. Dr. Brett Farnham, Dr. Kirby Fuerst, and Dr. Erin Fuerst will each use their skillful eye to design comfortable and natural-looking dental veneers just for your smile. To schedule your consultation, call our office today!